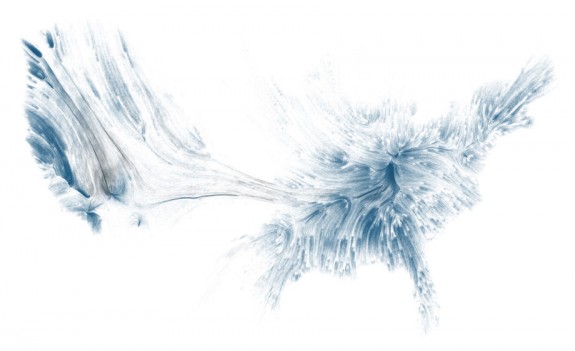 One of my favorite blogs, Flowing Data has a post about an amazing thesis project by David Wicks called 'Drawing Water.' This series of visualizations illustrates the relationship between where water falls and where it's consumed within the United States. The placement of each line represents a rainfall measurement, and the length and end placement is based on urban consumption. Lines pulled farther from its source change to black. The data comes from two sources: USGS for water consumption and NOAA/NWS for rainfall data.
Here's a video:

Drawing Water (Motion Test) from David Wicks on Vimeo.
David's analysis:
Drawing Water plays a bit upon the 19th-century theory that "rain follows the plow." At the time of its inception, that theory promoted Westward expansion, under the belief that plowing fields encouraged cloud formation and rainfall. As long as people plowed fields, they believed, water would come to them. Although we recognize climatological reality isn't influenced by our farming (in the manner hoped), Americans still live with an illusion of resource availability following need.